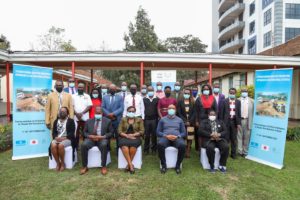 Dr. Evangeline Njoka, KNATCOM's Secretary General/CEO officially opened the Artificial Intelligence for Disaster Risk Reduction (AI for DRR) workshop that was held at the Kenya Institute of Curriculum Development (KICD) from 1st to 2nd September 2021. While giving her opening remarks, Dr. Njoka stated that the world was increasingly facing disaster risks in the form of floods, droughts, landslides, thunderstorms, fires and tsunamis among others. The frequency and impact of these disasters on the economy and people was poised to increase because of climate change. Therefore, this called for measures and real-time interventions through use of appropriate tools and technology to reduce impact and human suffering. Furthermore, leveraging on emerging technologies such as artificial intelligence to solve world problems was timely and now considered the norm.Artificial Intelligence for DRR training Launch at Kenya Institute of Curriculum Development (KICD)
She further added that KNATCOM was committed to the use of artificial intelligence, technology, science-based and innovation driven methodologies to address issues in society while striving to achieve KNATCOM's mission to promote peace, sustainable development and intellectual collaboration through UNESCO areas of education, the sciences, culture and communication and information. She expressed her confidence in the use of the AI Chatbot Mobile Application and viewed it as a tool that would revolutionize the future of disaster management through timely reporting and response.
Within the framework of the Strengthening Disaster prevention approaches in Eastern Africa (STEDPEA) project supported by UNESCO and the Government of Japan, the Kenya National Commission for UNESCO (KNATCOM) is coordinating a series of trainings for policy makers and disaster management practitioners drawn from government and civil society organizations. The training focuses on the use of the AI Chatbot for DRR to enable real time reporting of and response to both natural and anthropogenic disasters.
The purpose of the project that seeks to develop capacity of over 150 stakeholders on AI Chatbot for disaster risk reduction, is to support the development and integration of science-evidenced artificial intelligent innovations, citizen science and gender-responsive actions into strategies and action plans for disaster risk reduction in schools, higher education, communities and public sector institutions in Kenya.
The training will be held from 6th to 7th and thereafter, 9th to 10th September 2021 in Kisumu and Mombasa counties respectively.
Deputy Secretary General Dr. James Gichia Njogu remarks in a brief interview with KTN News. This was during the Artificial Intelligence for DRR training in Kisumu