Kenya's Newest City, Nakuru, Among UNESCO Creative Cities Network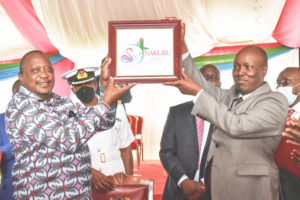 Nakuru is the newest City in Kenya following conferment to city status on 1st December by His Excellency President Uhuru Kenyatta, making it the fourth city after Nairobi, Mombasa and Kisumu. It is indeed a double celebration for Nakuru, which is among the 49 Cities that recently joined UNESCO Creative Cities Network following their designation by UNESCO Director-General Audrey Azoulay in November 2021. These cities are recognized by UNESCO for their commitment to place culture and creativity at the heart of their development and for sharing knowledge and good practices. Nakuru joins the Craft and Folklore Category, a reflection of the rich folk arts of communities living in Nakuru.
During the conferment of Nakuru Town to City status, H.E President Uhuru Kenyatta observed that Nakuru is a melting pot of Kenyan communities with different cultures that live harmoniously. Further, the Governor of Nakuru Lee Kinyajui, acknowledged the designation of Nakuru among UNESCO Creative Cities Network and expressed commitment to prioritize and incorporate culture and creativity in the development plans of the new city.
UNESCO Creative Cities Network (UCCN) was created in 2004 as a platform to promote cooperation with and among cities that have identified creativity as a strategic factor for sustainable urban development. Cities that join this network work together towards a common objective: placing creativity and cultural industries at the heart of their development plans at the local level and cooperating actively at the international level. UNESCO has particularly underscored cultural diversity as an outstanding source of exchange, innovation and creativity, with great potential to accelerate sustainable development. Cultural diversity offers a unique opportunity to reconcile the economic and social aspects of development by enabling communities and creators to make a living from their work while promoting their local cultures.
By joining the Network, cities commit to share their best practices and develop partnerships involving the public and private sectors as well as the civil society in order to:
strengthen the creation, production, distribution and dissemination of cultural activities, goods and services;
develop hubs of creativity and innovation and broaden opportunities for creators and professionals in the cultural sector;
improve access to and participation in cultural life, in particular for marginalized or vulnerable groups and individuals; and
fully integrate culture and creativity into sustainable development plans.
The Network covers seven creative fields: Crafts and Folk Arts, Media Arts, Film, Design, Gastronomy, Literature and Music. There are currently 295 cities that currently make up the Network in these creative fields. The UNESCO Creative Cities Network is not only a platform for reflection on the role of creativity as a lever for sustainable development, but also as a space for action and innovation for the implementation of the 2030 Agenda for Sustainable Development.
In line with the KNATCOM mandate of sharing UNESCO best practices and innovations, the Commission organized a capacity building workshop and provided technical support to Nakuru to apply to join UCCN. The process was fully supported by the Governor of Nakuru and Civil Society Organizations in the culture and creative sector. Recognizing the vibrant creativity among artists in Nakuru and the unique cultural diversity of communities, the Commission has no doubt that Nakuru is set to become a model city that places creativity and cultural industries at the heart of development, leading to inclusive sustainable urban regeneration as well as a breeding ground of action and innovation, notably for the implementation of the 2030 Agenda for Sustainable Development.