Mwai Kibaki (Special Envoy for Water in Africa)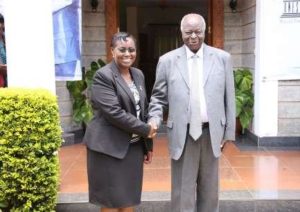 Mwai Kibaki is a Kenyan politician who served as the third president of Kenya. He was born on 15th November, 1931 in Gatuyaini, Kenya and served as the president from 2002 to 2013. He attended Makerere University (Uganda) from 1951 – 1955 where he studied economics, history and political science for his Bachelor of Arts degree. He was also an undergraduate student of London School of Economics (BSc. Public Finance) and is cited as the first African to graduate from the school with a first class degree.
Before his active involvement in the Kenyan struggle for independence from Great Britain, he worked as an assistant lecturer. After Kenya's independence, he won a seat in the National Assembly as a member of the Kenya African National Union party. He later served as Minister of Finance and Economic Planning and held other political positions during H.E Jomo Kenyatta and H.E Daniel Arap Moi's regimes.
He then became Kenya's third president in 2002 where his reign saw tremendous changes in the country's economic growth. He introduced a free primary education initiative, which gave children who would not have been able to afford school a chance to attend and championed the transformative 2010 Constitution. This new Constitution started wide-ranging institutional and legislative reforms.
Mwai Kibaki is an exceptional African leader who is honored and respected not only in Kenya, but also the continent at large.